Most people know that I play World of Warcraft, without a doubt. A bit fewer people know that I also write most of the frontpage stuff for my guild's website, whenever a noticeable event happens. Sometimes, I even cross-post them here, because the contents are… well, obviously something that I'm proud of. This is no different – and because of that, I will post Not One, But Two of them. Oh, and this time it's actual pictures, too!
The first one is Yor'sahj – an encounter in which the raid most repeatedly deny a general of the Old Gods a combination of different slimes, each of which giving him a special set of abilities for a short while. On heroic, he spawns 4 different versions, and it is up to the group to figure out which one to eliminate to avoid a potential devastating effect. So, what better way to represent this, than to combine an elephant plushie with M&Ms?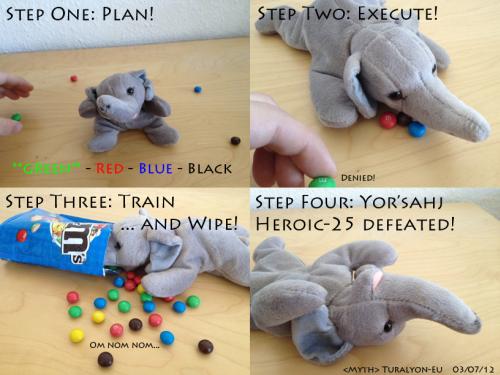 The second one is Ultraxion – Deathwing's ultimate creation. It was the perfect time to tell a heroic tale, to introduce a meta-Myth and … it really speaks for itself. There is simply too many subtle references crammed in there, that it would actually take a while to write down. Oh, and most importantly of all, I got to use my wonderful Gnu-plushie, for added awesomeness.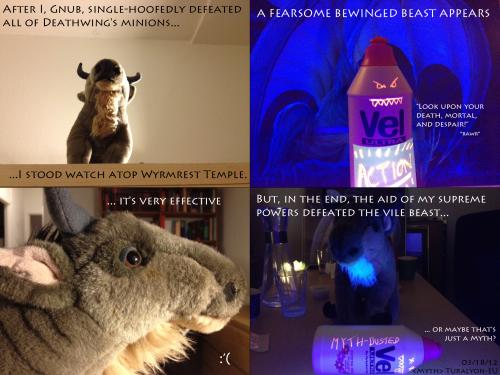 Both pictures can, if clicked, be seen in their full resolution – which I will highly recommend. Some of the text can be a bit hard to work out by reading it from the thumbnails.