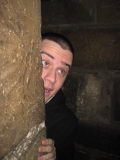 Who's the Gnub?
So, this is me – Emil Erik Hansen – the crazed person that is behind everything on here. However, I am not going to write too much about myself, but rather let you – the reader – decide what kind of person I am, instead of me forcing an opinion upon you. That would not be fair after all.
I can, on the other hand, recommend browsing the posts in the blog, which should all have some "me" in them. At the very least, it should serve as a good way to figure out who I am, what I like and what insane thoughts occasionally escapes my mind. Additionally, the portfolio is a good place to take a more specific look at the different things I have previously done. If that is not enough, catch me by using the information below and request for something specific to be written here. Do not worry though, I expect to update the pages every once in a while, not only to correct out-of-date information but also to add some new bits. New stuffs do happen, after all.
What does he do?
Since September 2014, I have been working at BEC as a System Developer (and, as of June 2017, a Solution Architect) using my technologic knowledge to create and code solid software and web solutions to use in the danish world of banking. A journey that keeps getting more exciting, and which I intend to infuse with my innovative and playful game designer mindset.
This mindset is the result of my educational journey, which I completed on the 24th of September in 2013, by finalizing my M.Sc in Game Design at the IT University of Copenhagen (ITU), which I started in the fall of 2011. Before that, earlier in 2011, I finished my B.Sc. in Computer Science at Copenhagen University (DIKU), which I started all the way back in 2006. A more detailed description of my studies and jobs can be seen by looking up my LinkedIn-profile below or my slightly less detailed Curriculum Vitae here on the site.
How to get in contact?
LinkedIn: Emil Erik Hansen
Twitter: @Gnub
Reddit: Gnueless
Instagram: Gnueless
Facebook: Emil Erik Hansen
Real Life: Somewhere in Odense, Denmark
Want to read more?
Point your eyes to the blog, which should be updated every now and then with all kinds of random things.